What NATO looks like in the age of European austerity
Amid budget cutbacks and a 'diminishing appetite' for war, Europe has turned increasingly to the 'soft power' assignments like training and institution-building.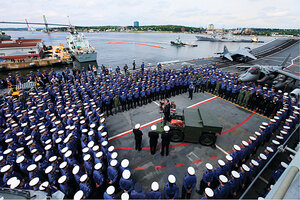 Lefteris Pitarakis/AP/file
When Portugal's Prime Minister José Sócrates welcomed President Obama on Nov. 19 to the NATO summit in Lisbon by announcing 150 additional Portuguese soldiers for Atlantic Alliance's deployment in Afghanistan, it was a surprise to the Portuguese people, who are coping with a growing economic crisis.
It was also a small exception to a larger trend across Europe of severe cutbacks, including military deployments and defense budgets, even as the European Union solidifies its place as one of the world's top providers of international humanitarian and development aid.
What that trend portends, say a growing number of experts on US-European relations, is a scenario under which the United States is more and more the provider of hard power – or military force – for the North Atlantic Alliance, while Europe turns increasingly to the soft power assignments like training and institution-building that it appears to prefer.
Some European military officials insist the trend is overplayed, adding that it will be Europe that will show the way to a more effective and efficient Atlantic military alliance by stepping up duplication-reducing cooperative ventures and hardware procurement.
'Paper tiger'?
---