Cancún climate change deal falls flat, Kyoto Protocol on life support
Two weeks of Cancún climate change talks ended Saturday, with a vague deal to help poor countries deal with climate change and the original Kyoto Protocol all but dead.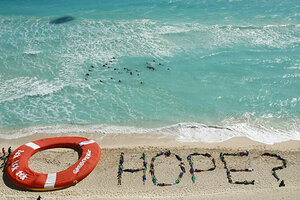 Israel Leal/AP
The climate change conference in Cancún appears to have sealed the fate of the Kyoto Protocol, the only legally binding treaty to combat climate change, and left countries squabbling over the substance and form of a new treaty for the future.
During the two-week meeting in Cancún, which ended Saturday, Japan said it would not commit to reducing greenhouse-gas emissions under the protocol after the first term of obligations for industrialized countries expires at the end of 2012. In effect, that means any emissions reductions by major industrial nations will be voluntary and at their own discretion – a far cry from the enduring, global commitment to reduce global warming agreed to in Kyoto 13 years ago.
"If we here throw the Kyoto Protocol into the garbage dump, we would be responsible for ecocide … indeed, for genocide … as we would be harming humanity as a whole," Bolivia's President Evo Morales said at the conference.
---