North Korea: Cold-war legacy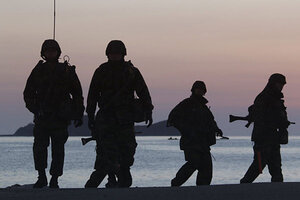 Kim Ju-sung/Yonhap/AP
The World War II Japanese occupation of the Korean Peninsula ended in 1945 when the United Nations gave control of the North to the Soviets and the South to the United States. Separate nations – North Korea and South Korea – were established in 1948. But North Korea, seeking unification, invaded the South in 1950, sparking the Korean War in which the UN supported the South, and China and the Soviet Union backed the North. The uneasy cold-war legacy of confrontation-rapprochement-confrontation has characterized the past half century:
1968 North Korea seizes the USS Pueblo, a Navy spy ship; its crew of 83 is released 11 months later.
1969 North Korea shoots down a US spy plane over the Sea of Japan; its 31-member crew perishes.
1976 In the "ax murder" incident, North Korean troops kill two US Army officers as they prune a tree in the demilitarized zone to improve surveillance.
---