North Korea and Iran: How the two states test US diplomacy
North Korea is seen as an unpredictable 'spoiled child.' Iran is seen as a rational but aggressive nation. Each have nuclear programs, but pose unique problems for US security.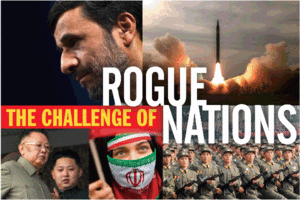 Photo illustration by John Kehe
Washington; Istanbul, Turkey; Seoul, South Korea
Likening North Korea to a "spoiled child" was nothing new.
But in the April 2009 US diplomatic cable from Seoul to Washington, the comparison of the backward and unpredictable regime in Pyongyang to a child acting up in an attempt to get attention was remarkable because of who had made it: He Yafei, the Chinese vice foreign minister.
A year later, another cable depicting a conversation between the South Korean vice foreign minister and senior Chinese officials would suggest that Beijing was tiring of its role as a lifeline to a withering Pyongyang, and was warming to the idea of a reunited Korea under the South's control.
The cables – a small piece of the mammoth cache of diplomatic communications released last month by the truth-out organization WikiLeaks – represented from Washington's perspective a bit of promising news in one of the world's most intractable and dangerous confrontations. Or at least they were until North Korea decided in November to rain down artillery fire onto the South Korean island of Yeonpyeong, putting North Asia once again at the brink of something that could potentially degenerate into nuclear war.
---