Haiti earthquake anniversary: the state of global disaster relief
On the first anniversary of the Haiti earthquake, global disaster relief is under the microscope. A $15-billion-a-year industry with 250,000 workers, the stakes are high – but from each tsunami, quake, hurricane, and drought, we learn what works and what doesn't.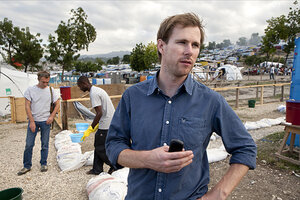 Melanie Stetson Freeman/Staff
Port-au-Prince, Haiti; and Mexico City
For most of his adult life, Emmett Fitzgerald has hopped around the globe with not much more than a few suitcases of belongings and a big heart, landing in broken or violent or dysfunctional nations. He has built cholera clinics in the jungles of Congo (former Zaire), taught English in remote Tanzanian schools, and identified international health crises for Bill Gates's charity.
So last January, when he watched TV images of dazed or hysterical Haitians fleeing the still shuddering debris of a magnitude-7.0 earthquake that killed 230,000 in an instant, Mr. Fitzgerald – who was in London at the time – knew he'd soon be in Port-au-Prince. He recalls thinking, as he watched a man save a woman's tent shelter from being destroyed in a tropical downpour, "Yeah, that's where I want to be.' "
By May, he'd hit the ground in the scorching Haitian capital of Port-au-Prince. And, as manager of a camp of survivors, he has spent nearly every waking hour since bouncing from the makeshift schools where children are tutored under tents; to the substation for UN soldiers who patrol the camp; to the cholera clinic where patients, if they can sit at all, perch atop cots.
---