How retirement is being reinvented worldwide
People are working longer – out of necessity and choice – as the world undergoes one of the biggest demographic shifts in history.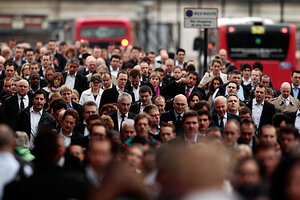 Getty Images/File
When business conditions in Japan forced him to close his small rice shop at age 63, Yasunori Izumi didn't take the event as a cue to retire. Instead, prompted by concern about covering expenses, he found a new job as a taxi driver – and plans to keep at it for years to come.
In Britain, postal carrier Kevin Beazer is just 45 years old, but he's already looking warily at his financial future. He's seen his expected pension pared back – reflecting a fiscal squeeze that's sweeping through Europe – and figures he'll need a part-time job after he retires.
In coastal Alabama, Donna Gainey is still working at age 64, but not out of financial necessity. She simply loves her job as a city clerk and the extra income it provides.
Around the globe, from developed Europe to fast-rising China, a common trend is emerging: The workforce is taking on an older profile as retirement is delayed or redefined.
A global recession has helped to accelerate the trend, by putting pressure on many people over age 55 to keep working if they can. But the real impetus behind an aging workforce is demographic. People are living longer. Older people are also becoming a larger share of the population in many nations, simply because of declining birthrates and shrinking ranks of young people.
---