Hunger and food security: Is Africa selling the farm?
Foreign investors see Africa as a breadbasket. Done well, investment could help with African hunger but create food security for the rest of the world.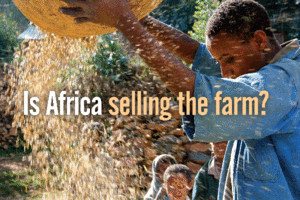 Reuters photo/John Kehe illustration
In March 2009, civilian protesters led by a baby-faced former disc jockey swarmed through the streets of this hilly capital city. They were calling for the ouster of then-President Marc Ravalomanana for what they saw as literally giving away the farm, selling out his impoverished nation.
The anger was about food. Mr. Ravalomanana reportedly had leased 3.2 million acres – nearly half the island nation's arable land – to a South Korean conglomerate, Daewoo, for 99 years. In theory, it should have been a win-win deal: Daewoo would pay Madagascar $6 billion to grow corn and oil palm, helping South Korea meet both its food-security and bio-fuels needs, while providing Madagascar with revenues and desperately needed jobs.
But the protests, ultimately backed by the military, showed that the Madagascan people – 70 percent of whom live in rural areas and nearly 50 percent of whom suffer chronic malnutrition – saw the deal as a "land grab" and a threat to their country's survival. Ravalomanana fled the country within days, and a military-backed junta led by the young DJ, Andry Rajoelina, took control. The Daewoo deal was promptly scuttled.
"There was no process," says Hajo Andrianainarivelo, Madagascar's new minister for land management. "The head government official of the region just received an order from the president of the country to help the Korean people to find the most fertile land. That was it. You can't do that in Madagascar."
---