Prince William and Kate Middleton royal wedding: Do monarchies still matter?
Prince William and Kate Middleton's royal wedding may have tinges of the turreted-castle fairy tale. But from romantic to ruthless, more than 40 modern monarchies, including Prince William's family, still influence global realities for better or worse.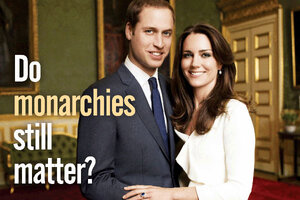 AP Photo/John Kehe illustration
Theirs is a thoroughly modern royal love story.
They met as students at the University of St. Andrews in Scotland and love bloomed amid the mist and timeless splendor of a historic city of worn cobblestones, wind-swept beaches, and the Old Course, golf's ancestral home.
They dated for several years, broke up, got back together, and finally, much to the relief of a nation, issued a long-awaited engagement announcement.
The April 29 wedding of Prince William and Kate Middleton at Westminster Abbey in London will be an international event, a reminder of the power that royalty still packs in the early 21st century.
In a democratic age, monarchy still matters. More than 40 countries still have some form of monarchy: From Britain's constitutional monarchy headed by Prince William's grandmother, Queen Elizabeth II, to sheikhs, emirs, and kings who preside over oil-rich states in the Middle East, the sun has never managed to fully set on royal reign.
---