Swiss freeze Qaddafi assets: How dictators stash their cash 101
Switzerland froze the assets of Libya strongman Muammar Qaddafi and 26 other people from his entourage, less than two weeks after freezing assets belonging to Egypt's Hosni Mubarak.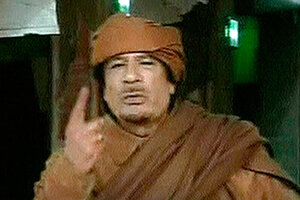 Libyan State Television/Reuters
Switzerland on Thursday announced it was freezing any assets in its banks belonging to Libyan leader Muammar Qaddafi, yet another blow to the embattled strongman who faces increasing pressure to step down.
"In view of the developments, the Federal Council has decided with immediate effect to block any assets in Switzerland of Moammar Qaddafi and those who are closely associated to him. In this way, the Federal Council wishes to avoid any risk of embezzlement of any assets belonging to the Libyan state still held in Switzerland," the Swiss Federal Department of Foreign Affairs said in a statement.
Switzerland condemned Colonel Qaddafi's use of violence, including reportedly sending mercenaries against the protesters, and expressed condolences to the victims' families. The Swiss three-year freeze took affect immediately.
Of course, Switzerland's action also highlighted that Swiss banks often seem to make news for holding suspect assets, which begs the question: Is the government doing anything about that?
---