The peacebuilders: Making conflict resolution permanent
Out of the UN comes a new idea for ending war. Peacebuilders: An intensive process that gives permission for foreign 'interference' in conflict resolution.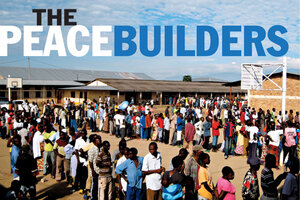 Newscom Photo/John Kehe staff illustration
Michael von der Schulenburg drove deliberately into the riot. Angry men filled a main road here in Freetown; they quickly surrounded his car. They were members of the APC, the All People's Congress, and their leader, Ernest Koroma, was Sierra Leone's president. They were in a dispute with their opposition over a local election that had taken place a day's drive deep into the countryside.
That rural dispute turned national and urban, and threatened to turn violent in Freetown. Thousands of APC men thronged toward the headquarters of the opposition party. They were drunk, and they were being used. Men here are cheap – a beer buys a vote – but they are not usually violent.
Mr. Schulenburg, the United Nation's top man in Sierra Leone, hadn't been in the country for long, but he did know this: So many men don't gather by accident, nor do they spontaneously decide to fight over such a paltry political event as a rural vote. Schulenburg didn't know who had reported the crowd, or why. He's friendly with Sierra Leone's "Big Men" – he chats daily with Mr. Koroma by phone. But that day, no one would take his calls.
As he approached the action, he wondered: Was this the kind of raucous discontent typical of Sierra Leonean politics, or was the street rumor right? Could it be the moment that the war comes back?
He focused again on the building, where 22 men cowered on the roof. Below them, the crowd shouted, "Hand them over! Hand them over!"
---