Somalia famine revives debate: is it acceptable to patent aid?
Somalia's famine has boosted demand for the malnutrition treatment Plumpy'nut. But a patent curtails production – and has sparked intense debate over balancing business interests with humanitarian need.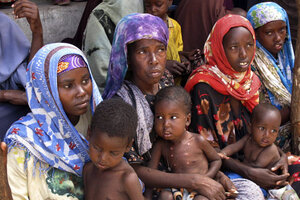 Mohamed Sheikh Nor/AP/File
In Providence, R.I., a small factory is running 21 hours a day, six days a week, to meet the intense demand for Plumpy'nut, a candylike paste that has been heralded as a game changer for treating the kind of severe malnutrition racking Somalia and other drought-stricken areas.
But even with Edesia's expanded hours, churning out what is essentially peanut butter pumped full of nutrients, there isn't enough Plumpy'nut – or its generic equivalents, known collectively as ready-to-use therapeutic foods (RUTFs) – to meet the demand in East Africa, let alone help feed the estimated 20 million children worldwide who are extremely malnourished.
The reason: Plumpy'nut, the original RUTF, is patented. That patent bars operators in North America and most of Europe from large-scale production of RUTFs that could drive down the price. Companies in developing countries, meanwhile, are allowed to produce Plumpy'nut but can't yet make it cheaply or in large quantities.
That tension has spurred a vociferous debate: How can the need for affordable humanitarian relief be balanced with a profit motive that spurs innovation – and a business model that promotes industry in developing countries – but stymies more efficient production?
---