Below the line: Poverty in America
Official figures say 46 million Americans live in poverty. Beyond that, there's little about poverty that Americans can agree on.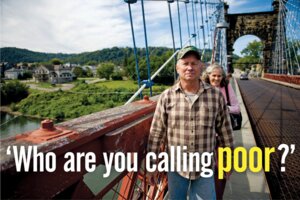 Ann Hermes/The Christian Science Monitor
Technically, Linda Criswell steals her fruit.
No one at King's Daughters Day Care, where she works, would begrudge her an orange or an apple, of course. This isn't that kind of workplace. When she grabs a piece of whatever the kids are having that day, she's welcome to it. But the simple staple is also something she can't buy on her own.
"I can't afford fresh fruit or low-fat meat. I can't get cauliflower or green peppers," she says. When she does buy food, "I buy things that stretch longer." She opts for whole roasted chickens that she spins into four or five meals. She can stretch a tomato, grown in her home garden, across an afternoon salad and an evening BLT sandwich. Until the first frosts come, and the plants die, that is. Then she waits until summer to eat tomatoes again.
Ms. Criswell's stoic self-sufficiency isn't always enough to get her through. "I've eaten food that's seven, 10 days old." She gestures toward a reporter's notebook. "You can [write] that down."
Criswell works full time, with no benefits, and she hasn't had a raise in three years. After taxes, she brings home $1,030 a month – enough, if she's careful, to meet her expenses, with little wiggle room. "What I feel," she says, "is anxiety. I felt it just this morning. It's constantly in the back of my mind: 'Am I going to have enough to pay the bills?' "
Works full time; lives in poverty
Is Linda Criswell poor?
This turns out to be a very difficult question to answer. How you answer may depend as much on who you are – liberal or conservative, city-dweller or rural homesteader, low-wage laborer or salaried middle class – as on any single set of criteria. Even the government isn't sure how to think about the question: In some states, making $1,000 a month might qualify you for food stamps but could be too much income to qualify for Medicaid.
---