Toronto storm: Toronto under water after record rainfall
Canada's largest city was incapacitated by the most rain it has seen in recorded history, breaking the previous record from 1954.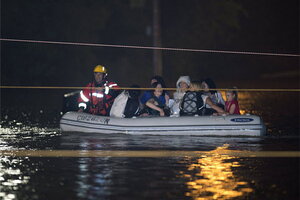 Frank Gunn/Canadian Press/AP
Flooded subway stations, submerged cars on the highway, and rescue teams floating through city streets on inflatable boats: The scenes sound like Hollywood, but in fact describe Toronto this morning, after rainfall flooded Canada's largest city.
A massive thunderstorm caused flash flooding throughout Toronto, making it the second Canadian city to be flooded this summer.
With nearly five inches (126 mm) of rain recorded at Toronto's Pearson International Airport, the storm produced more precipitation than the city has ever seen, according to the Globe and Mail. The water overflowed out of the city's drainage system, flooding the downtown area, and halting traffic on many of the roads and highways. Thousands of passengers aboard Toronto's public transit system were left stranded for hours, while up to 500,000 residents were left without power.
GO Transit, Toronto's public transport system, issued a statement to commuters this morning recommending that they find alternative routes because many of the tracks were still damaged, the Canadian Broadcasting Company (CBC) reported. Flooding of GO train rails left 1,400 people stuck on a commuter train for hours.
Mike Li, a commuter, told The Canadian Press the GO Transit train became stuck after trying to back away from the water pooling on a section of track.

"People take it for what it's worth, but some are frustrated too," he said.

The commuters were stranded for more than three hours before a police marine unit arrived. The evacuation of the train was complete by about 1 a.m. with only minor injuries to five or six passengers, who were treated on the scene.
---