Palestinians to get $20 million in US aid, but leadership in disarray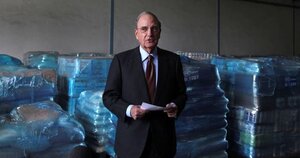 Tara Todras-Whitehill/AP
Ask and ye shall receive – sort of. Yesterday, the United Nations appealed for $613 million in immediate humanitarian assistance to Gaza. Today in Jerusalem, President Obama's Mideast envoy George Mitchell said that the US would chip in $20 million.
Now, that probably won Mr. Mitchell some good will – something he tends to be good at winning. (We wrote last week about his "positively biblical" patience that enabled him to broker peace in Northern Ireland. Read more here about this former senator, raised by an Irish janitor and Lebanese textile worker in Maine.)
Wanted: Palestinian leader backed by Palestinians, trusted by Israel
But Mitchell, who is underscoring Obama's commitment to restarting the Israeli-Palestinian peace process during his tour of the region, has a far bigger problem on his plate: who will sit across from Israel in any future negotiations.
---