Why Zimbabwe opposition agreed to join Mugabe's government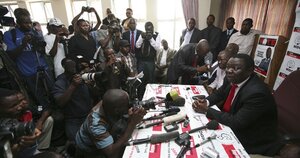 Tsvangirayi Mukwazhi/AP
Johannesburg, South Africa - It took 10 months of international mediation and arm-twisting, but Zimbabwe opposition leader Morgan Tsvangirai and his Movement for Democratic Change (MDC) party agreed Friday to join in a power-sharing government with Zimbabwe President Robert Mugabe.
The decision to share-power came after the 2008 national elections gave Mr. Tsvangirai's MDC control of parliament, and Tsvangirai himself a substantial lead in the presidential race against Mr. Mugabe, although short of the 50 percent majority required to avoid a runoff.
In September, Tsvangirai agreed in principle to a power-sharing agreement, but objected to Mugabe's subsequent decision to keep all the major ministries for his own party, including finance, defense, and foreign affairs.
Tsvangirai to control the police
Under the agreement reached this week, brokered by South African president Motlanthe, Mugabe and Tsvangirai have agreed to share control of the Ministry of Home Affairs, which includes Zimbabwe's often brutal police.
---