US skiing queen Lindsey Vonn wins World Championship gold – again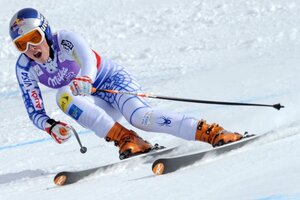 Armando Trovati/AP
At the 2009 World Championships in Val D'Isere, France, today, US Ski Team standout Lindsey Vonn captured gold in the downhill in a time of 1:30.31 – 0.54 seconds ahead of second-place finisher Lara Gut.
A 'first' lady
Vonn's downhill victory today was the first for a US woman at World Championships since Hilary Lindh took gold in 1997. She's also the first American woman to win two World Championship golds since Andrea Mead Lawrence scored a double victory at the 1952 Oslo Olympics – which doubled as World Championships back then. (That's according to theskichannel.com.)
Setbacks fire her up
Monday's gold makes it two for three for Ms. Vonn, who also won the championship Super-G last week. In between, she was disqualified in the combined event. But that probably only got her more revved up.
This is a girl who crashed so hard at the Torino Olympics - when she was known by her maiden name, Lindsey Kildow - that she had to be airlifted off the slopes. But she didn't let that stop her. She got back on her skis and competed in four of five races – finishing three in the top 15.
---