What Israeli voters really want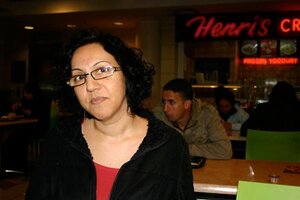 Ilene R. Prusher/The Christian Science Monitor
JERUSALEM, UMM EL-FAHM, AND ASHDOD, ISRAEL – Ifat Mechorish sat down in a food court for a late lunch, which she chose without hesitation: A hot slice of pizza was just the thing for a cold and blustery day.
But at 2:30 p.m., she remained undecided about whom to select in Israel's national polls – and was glad to have several hours to decide.
The night before, she'd made up her mind of vote to Foreign Minister Tzipi Livni, head of the centrist Kadima party, which seemed to be in a dead heat Tuesday with the right-wing Likud party led by Benjamin Netanyahu.
But Ms. Mechorish, a Tel Aviv-area information specialist, was herself far from being sold on Kadima.
"I'm thinking of choosing Livni, but I'm still not at peace with my choice. Except for her, I don't see even one other person in the party that I like or can say I support," she says over the election-day din at Jerusalem's Central Bus station.
She'd used the day off from work (election day is a national holiday here) to come to the dentist in Jerusalem and planned to use the trip back to Petach Tikva – a city near Tel Aviv whose name means "the opening of hope" – to figure out how to vote.
---