'Hotshot' help: US firefighters headed to Australia infernos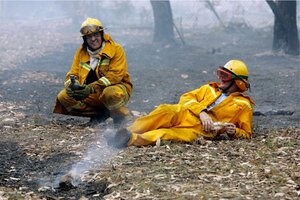 Rick Rycroft/AP
A team of 60 elite firefighters and land rehabilitation experts from the United States will be dispatched to Australia in coming days to help the country recover from its deadliest natural disaster on record.
With entire towns turned to ash by wildfires over the weekend and nearly two dozen fires still burning, Australia sent out a request Tuesday night for help from the US, says Randy Eardley, spokesman for the National Interagency Fire Center in Boise, Idaho.
Australia has asked for planning and logistics managers, burned land rehabilitation teams, and a 20-person "Hotshot" crew, which Mr. Eardley says are "the most highly trained firefighters we have."
Fueled by 118-degree F temps and high winds, the fires raced through Australia's southeastern bush country on Saturday, overrunning and killing dozens of people. As a Monitor correspondent reported earlier this week from Melbourne, some of the fires were sparked by arsonists, prompting Australia's prime minister to describe the devastation as "mass murder."
A nationwide manhunt is now underway to find those responsible for the crimes. Meanwhile, authorities continue to bar residents from returning to some charred towns, including Marysville, where upward of 100 residents – a fifth of the entire town – are feared to be dead. The Age newspaper of Melbourne is full of sobering accounts of the tragedy, including this description of hard-hit Marysville: "Once described as 'God's own garden' in its heyday as a honeymoon destination, [the town] is now a wasteland of ash, with bodies lying in the street and amid the ruins."
---