Pilgrims in Iraq: Latest victims of female suicide bombers
(Read article summary)
At least 40 people were killed at a stop along a major Shiite pilgrimage route to Karbala.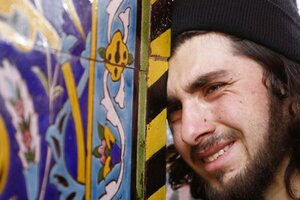 Atef Hassan/Reuters
BAGHDAD – At least 40 Shiite pilgrims, many of them women and children, were killed Friday by a female suicide bomber south of Baghdad in the deadliest attack so far this year, Iraqi officials say.
At least 60 more were injured in the attack near Iskanderiya, about 25 miles south of Baghdad, at a stop on the pilgrimage route to Karbala, where millions of Shiites annually converge to mark the death of Imam Hussein.
While other kinds of attacks are down in Iraq, suicide bombings by women – harder to detect than male bombers – have risen dramatically in the last year.
Iraqi officials last month arrested a woman they say confessed to recruiting more than 28 women to blow themselves up. Samira Jassim, in a videotaped confession to interrogators, described befriending women estranged from their families or in distress and persuading them to become suicide bombers.
Ms. Jassim told The Associated Press that she was part of a plot in which young women were raped and then she would try to persuade the victims to become suicide bombers as their only escape from the shame and to reclaim their honor.
Friday's bomber was believed to have hidden explosives under her abaya – the voluminous black cloak worn by almost all the women making the pilgrimage. She detonated her bomb at one of the hundreds of rest-stop tents set up along the road to Karbala. The casualty toll was expected to rise with many of the injured critically wounded.
---