Clinton looks to 'reset' US-Russia relations
(Read article summary)
Clinton met with Russian foreign minister Sergei Lavrov and stressed improving ties between the two countries.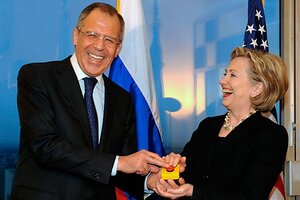 Fabrice Coffrini/Pool/AP
MOSCOW – US Secretary of State Hillary Clinton and Russian Foreign Minister Sergei Lavrov officially pressed the "reset button" on the frozen Russia-US relationship at a Geneva tete-a-tete Friday evening, but the reboot is likely to be lengthy and troubled.
It didn't help that a button Ms. Clinton gave Mr. Lavrov, meant to be a symbolic gift with a Russian-language label reading "reset," actually said "overcharge," in an apparent translation error.
Ms. Clinton's first real chance to chat with her Russian counterpart – the two met briefly at a conference in Egypt last Monday – took place over dinner, and the agenda was all about taking the temperature and sketching out areas of agreement for Presidents Barack Obama and Dmitri Medvedev to follow up at their first encounter on the sidelines of next month's G-20 summit in London.
"We are entering into our renewed relationship with our eyes open," Clinton said before meeting Mr. Lavrov. "We think there are a number of areas where there could be cooperation ... there are also areas where we strongly disagree."
Russia's foreign ministry echoed her tone. "We are waiting with cautious optimism the outcome of these talks," it said in a statement Friday. "We expect good results."
---