At G-20 summit, a fragile web of relationships shapes outcomes
(Read article summary)
The Obama-Hu exchange seemed to go well, while dinner Wednesday night gave Obama and Germany's Merkel a chance to reach greater détente.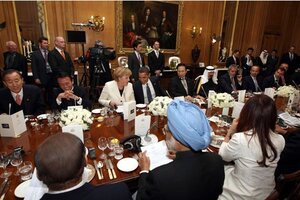 Steve Parsons/AP
LONDON – Like at any summit, the often fraught web of relationships between the G-20 leaders can be crucial to its outcome.
What then, can we deduce from some of the personal interactions on show thus far?
Well, Winston Churchill's prized "special relationship" is alive and well on the basis of Barack Obama and Gordon Brown's joint appearance Wednesday. Britain's prime minister, on the ropes at home and badly in need of a boost from this summit, was barely able to disguise his delight with the effusive praise from the US president for his leadership efforts.
Though quite different characters – Mr. Brown is a bookish intellectual derided for his lack of charisma – the British-American alliance at this week's summit appears to be firmly anchored.
On the other hand, the recession has revived the Franco-German axis which was so dominant for many years during the 1980s and '90s, with Nicolas Sarkozy and Angela Merkel overcoming previous tensions. In the past, the hyperactive nature of the French president is said to have tested the patience of even Germany's softspoken chancellor.
---