Quake relief slow in Italy's remote areas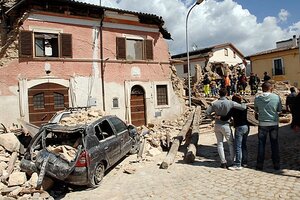 Sandro Perozzi/AP
In the deadliest earthquake in Italy in 30 years, the death toll had risen to more than 200 on Tuesday. Aftershocks continued throughout the region, hampering rescue efforts and causing thousands to spend Monday night outside in tents or in their cars.
Reuters reports that rescuers worked under floodlights through the night.
"The hopes of finding anyone under the rubble now is very small," said a civil protection agency official at a camp set up outside L'Aquila, the historic mountain city shattered by the quake.
Original story below
MILAN, ITALY – Central Italy was struck Sunday night by a major earthquake, leaving at least 90 people dead and 70,000 others without a home. But because the epicenter of the 6.3 magnitude tremor is in the mountains, it's not clear yet the extent of the damage or loss of life.
This is a region of remote villages and small towns, which are hard to reach for rescuers.
"The main problem is that we still don't have the whole picture of what's going on in the most remote villages," explains Tommaso della Longa, spokesman for the Italian Red Cross, speaking on his cell phone while driving toward Abruzzo. The Italian provinces of Lazio and Abruzzo, about 60 miles east of Rome, were hit hardest.
"The situation is changing minute to minute and we are doing what we can. We are also waiting for international aid," he says.
Prime Minister Silvio Berlusconi canceled a trip to Russia to coordinate the government's response. He has declared a state of emergency and blocked the roads to the hardest hit regions in order to allow for quicker delivery of aid. The Minister of Defense said the Army will soon be deployed to help civil authorities with the rescue efforts.
---