German magazine bags Obama 'confession' at G-20
(Read article summary)
Was there a touch of schadenfreude in the ensuing frenzy of commentary?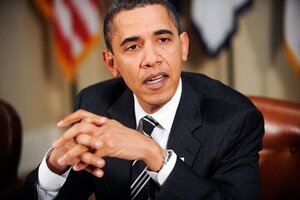 Photo by Olivier Douliery/ABACAUSA.COM/Newscom
While pundits in the United States debate whether or not President Obama inclined his body toward Saudi King Abdullah at last week's Group of 20 meeting in London, attention in Europe is more focused on the president's verbal bowing during the summit.
During the final "decisive" session of the G-20 meeting, President Obama uttered three words that, at least according to this account by the respected German news magazine Der Spiegel, amounted to a US confession for causing the financial crisis and and "may go down in world history as one of the greatest statements ever made."
What, pray tell, did the president say?
"I take responsibility."
---