Iraq: Deadliest attack in year kills five US soldiers
(Read article summary)
The attack came in Mosul, the most dangerous city in Iraq.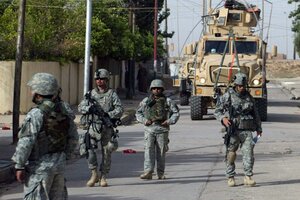 Ali Yussef/Newscom/AFP
BAGHDAD – A suicide truck bomb packed with a ton of explosives detonated near an Iraqi police headquarters in Mosul Friday, killing five US soldiers and two Iraqi policemen in the deadliest attack on American forces in more than a year.
The US military said two American soldiers and 20 Iraqi security forces were also wounded in the attack on the National Police headquarters in southwest Mosul. Dozens of civilians in the surrounding area were also said to have been wounded in the blast.
Interior Ministry spokesman Maj. Gen. Abdul Karim Khalaf told state-run Iraqiya television that the truck was packed with about 2,000 pounds of explosives when it slammed into a security barrier near the police headquarters.
Mosul, 200 miles north of Baghdad, remains the most dangerous city in Iraq. A US batallion commander, three of his soldiers, and their Iraqi interpreter were killed there by a suicide car bomber in February.
Friday's death toll was the highest for US forces in a single incident since March 2008, when a suicide bomber killed five American soldiers on patrol in central Baghdad.
American and Iraqi forces are still engaged in a major military operation to clear Mosul neighborhoods of insurgents. US troops are expected to stay in the city past the June deadline for all American combat forces to be out of Iraqi cities, General Raymond Odierno told The Christian Science Monitor during a recent visit there.
---