Standoff with Somali pirates shows limits of naval response
(Read article summary)
Military options could only make things worse, some analysts say, if they did not go hand in hand with political solutions.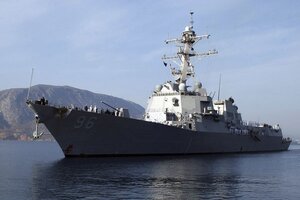 Paul Farley/REUTERS/File
As the standoff between the US Navy and Somali pirates intensified Friday in the Indian Ocean, with pirates vowing to fight on as the US encircled them, analysts were pointing to the episode as evidence that international naval power may have a limited role in ridding the seas of the pirate scourge.
Central to stemming the attacks is addressing issues in Somalia, where the weak government is powerless to intervene without substantial financial and logistical support from donor countries.
"Twenty years ago we had a strong government, with maritime forces and armed forces, and ships to defend our waters," says Abdi Haji Gobdoon, spokesman for the Somali government. "There was never any problem like this."
"At the moment, we have no ability to protect the waters or defend against the pirates," he said by telephone from the Somali capital. The fledgling government controls only a small portion of the capital, let alone its 1,879 miles of coastline. He added that requests for financial assistance or technical help had been made repeatedly to donor nations, but continued to fall on deaf ears.
"No one wants to help us with this. I don't know why, because it is a problem for everyone now," he said. "They send ships but we need stability on land."
Somalia has had no effective government since 1991. With no coast guard or military to defend its territorial waters, Somalis, whose livelihoods depended on fishing, could only watch as foreign trawlers emptied the seas of fish. To survive, many took up piracy instead.
---