International nuclear inspectors leave North Korea
(Read article summary)
The North had announced their expulsion in response to the UN Security Council's condemnation of its missile launch April 5.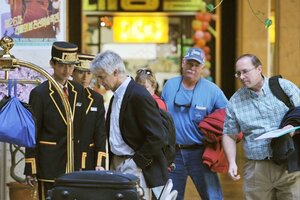 Kyodo News/AP
SEOUL, SOUTH KOREA – For the third time since they entered North Korea in 1992, inspectors from the International Atomic Energy Agency (IAEA) have switched off the cameras and stripped the seals from the locks on the five-megawatt reactor at North Korea's nuclear complex at Yongbyon.
The three IAEA inspectors were then driven 60 miles south to Pyongyang, where they boarded planes Thursday to Beijing. North Korea ordered them out on Tuesday after the UN Security Council condemned the North for launching a long-range Taepodong-2 missile on April 5.
Their departure ended the latest era of hope that North Korea would abandon its nuclear program.
Almost simultaneously, South Korea is planning to join the Proliferation Security Initiative, a multination effort to stop shipment of nuclear materiel and technology to and from North Korea and other nations. "North Korea is one of the potential proliferators of weapons of mass destruction," a South Korean foreign ministry official said Thursday. "Our decision to join PSI is firm and clear."
---
Follow Stories Like This
Get the Monitor stories you care about delivered to your inbox.