Thailand searches for a political exit plan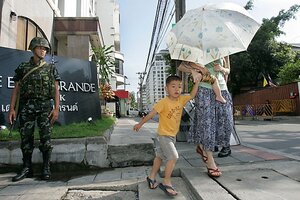 Sakchai Lalit/AP
BANGKOK, THAILAND – The charred buses and metal barricades are gone. Armed soldiers still patrol the capital, but discretely. Even the traffic is back to its usual near-gridlock.
But one week after Thai Prime Minister Abhisit Vejajjiva declared a state of emergency to put down violent protests here by red-shirted opponents, who sought his resignation, the shock waves are still rippling through a polarized, shaken nation.
The emergency laws were reaffirmed Sunday after a meeting between security officials and the prime minister. It may be several days before it's lifted. Police are hunting for the gunmen behind the shooting on Friday of Sondhi Limthongkul, a leader of a rival protest group, known as "yellow shirts."
Authorities have separately detained 34 people over the recent protests and closed down opposition radio stations and Internet sites blamed for inciting violence.
Beyond the immediate security threat, however, lies a more complex challenge: restoring faith in Thailand's fragile democracy to solve its grinding political conflict. If this fails, the outcome could be more turmoil and greater instability, say political analysts and politicians.
FRESH ELECTIONS?
Much of the debate centers on proposed changes to a 2007 constitution and a possible amnesty for banned politicians, followed by fresh elections. There is deep disquiet over the role of powerful elites, including the military, in the process, as well as the risk of a popular backlash to any poll results.
Mr. Abhisit, who took power in December after a court disbanded three parties in the previous coalition government, has promised to hold elections, once political reforms are concluded. But he hasn't laid out a firm timetable for the reforms, which experts have said could take several months to finalize.
---