In Paris in spring, thoughts turn to ... the art show
(Read article summary)
Like a business rediscovering its core competency, the city of light has seen the opening of no fewer than 12 major exhibitions in recent weeks.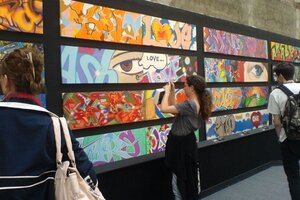 Robert Marquand
PARIS – When the economic going gets tough, Parisians appear to go to museums – to exhibitions, more precisely. Europe is in a global financial crisis. But Paris isn't letting a crisis go to waste. Like a business rediscovering its core competency, the city of light is using its famed spring to do what it does best – the art show. No fewer than 12 major exhibitions have opened in recent weeks, a veritable tsunami of culture.
There aren't many cities where you can see Andy Warhol's first retrospective in years, walk a half-block for 90 "graffiti artists" from Taiwan to Europe, then literally cross the street and wander among the visionary works of William Blake – his Job, Moses, the Ancient of Days, and "Tyger Tyger burning bright" – all before lunch.
Then there is an anthropological look at a century of jazz – ragtime to bebop to boogie woogie, and beyond at the Quai Branly Museum, former President Jacques Chirac's gift to the city. At the Pompidou Center, Alexander Calder and Wassily Kandinsky. Or, try "Forgetting Rodin" at the Orsay, a show of AugusteRodin's artistic contemporaries that the great sculptor apparently didn't entirely eclipse. The Bibliotheque Nationale features "Controversies" – famous photographs in some way scandalous, stolen, fraudulent, or otherwise contested, including Abu Ghraib shots, Lewis Hine's famous "Three Riveters: Empire State Building," now said to be staged, and others. The show's cover iconography is a kiss between a priest and a French nun, who is in full-winged white traditional head gear.
---