Mexico City residents adapt to swine flu restrictions
(Read article summary)
Local businesses have been hit hard in the past few days and, with schools closed until May 6, families are scrambling to care for their children.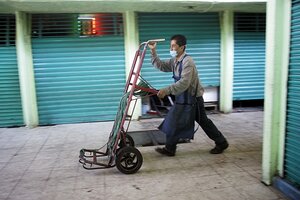 Miguel Tovar/AP
MEXICO CITY - Nowhere in Mexico has the ebb and flow of daily life been more restricted than in the capital. Officials banned over 500 public events. They let soccer matches carry on – but without spectators.
On Tuesday, the government took another dramatic step forward: all gyms, pools, movie theaters, billiards halls, and convention centers were closed across Mexico City. The 35,000 restaurants were all closed for dine-in service – only take-out is permitted.
The swine flu outbreak is already hurting Mexico's economy, especially its tourism industry. Cuba has banned flights to and from Mexico and Argentina had suspended flights from Mexico. The United States and the European Union have discouraged nonessential travel there and cruise lines are avoiding Mexico ports.
As officials weigh the consequences, locals worry about the fallout.
Local businesses hit hard
At Café Amsterdam, in a leafy neighborhood of Mexico City, owner Adrian Valdespino says that business in the last two days is down by 70 percent. All the chairs were stacked on the tables in the middle of the day as if it were closing time. He says if the situation worsens he may have to consider staff reductions.
---