United States: A streetcar named nostalgia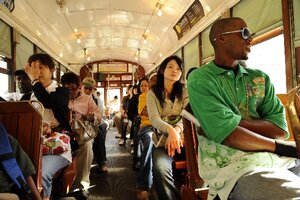 Mary Knox Merrill/staff
• A local, slice-of-life story from a Monitor correspondent.
NEW ORLEANS – We board way out on St. Charles Street as old 923 ratchets to a stop. A crescent moon has just disappeared, and a sweet prevailing breeze is kicking up, flowing through hardwood windows that open easily. $1.25 later, the electric engine thrums and the 923 cranks into gear, lurching confidently into a city defined by danger and opportunity, tempered by an undying urge to let the good times roll.
Tennessee Williams almost named his famous play "The Poker Night," but fortunately he stumbled onto "A Streetcar named Desire" instead. Yes, the old "Desire St." line is gone, perhaps forever. But today, if not for hurricane Katrina's wallop, the New Orleans' streetcar system would be the oldest continuously operated streetcar system in the world.
For many New Orleanians, the future of the city lies in its past – half a century before the hurricane hit. Talk is of tearing down the elevated interstates that came with urban renewal and digging up the maze of old streetcar lines that lay buried under asphalt.
Don't just restore the streetcars from Katrina's touch, the thought goes, expand the lines to their original egalitarian glory. For once, New Orleans is ahead of the curve: Nearly 100 US cities now are considering streetcar lines, according to the Lincoln Institute of Land Policy in Cambridge, Mass.
---