Memo to Israel (and Abbas): Obama firm on settlements
(Read article summary)
On the eve of the Palestinian president's Oval Office visit, Secretary of State Hillary Clinton said Wednesday that the administration meant zero growth, period.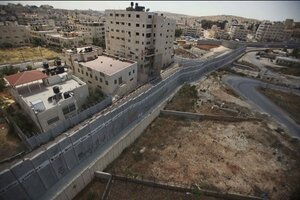 Muhammed Muheisen/AP
TEL AVIV – The Obama administration has turned up the heat on Israel with an explicit call for a comprehensive freeze on the expansion of Jewish settlements in the West Bank.
President Barack Obama "wants to see a stop to settlements – not some settlements, not outposts, not natural-growth exceptions," said Secretary of State Hillary Rodham Clinton Wednesday, on the eve of Mr. Obama's visit with Palestinian President Mahmoud Abbas.
When Israeli Prime Minister Benjamin Netanyahu and Obama gave a joint press conference after their White House meeting last week, he left out such blunt language, which could have embarrassed the premier with certain constituents back home.
But with Mr. Abbas's Oval Office appointment Thursday afternoon and a major policy speech in Cairo next week, Obama and his administration likely felt the need to clarify the presiden'ts expectations for the settlement freeze called for under the Bush administration's 2003 road map – a blueprint for peace agreed to by Israel.
With Palestinians restless, Abbas needs tangible results – and soon
Abbas desperately needs to prove to a skeptical constituency that US-led peace negotiations can yield political dividends. The Arab world, which is getting restless for concrete action from Obama, has repeatedly called on him to pressure Israel on Palestinian statehood, the Gaza blockade, and the settlement issue.
---