Canada: Buffalo Bills look north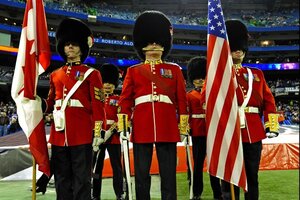 NEWSCOM/File
• A local, slice-of-life story from a Monitor correspondent.
TORONTO – Will a Canadian city better known for hockey and Hollywood filmmaking soon be home to the first non-US franchise of the National Football League?
Sports-loving citizens of Toronto hope so. And it does look possible that the Buffalo Bills, the team of Jack Kemp and O.J. Simpson (before he was notorious), could move north.
Buffalo, N.Y., a city in decline, has had difficulty sustaining the team. The Bills ranked in the bottom six of the NFL's franchise valuations for 2006 and 2007, the year they announced they would begin to play pre- and regular-season games in the wealthier, population-rich birthplace of actress Mary Pickford. The Bills' owner, Ralph Wilson, has said he won't sell the franchise while he is alive, so the Toronto venture is seen as an attempt to test the market for a bid.
---