Experts say don't jump to conclusions on Air France crash
(Read article summary)
Information from "black boxes" and other sources could help prevent future accidents.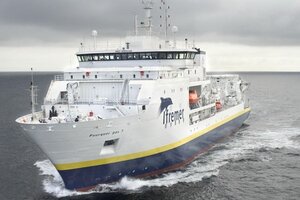 Olivier Dugornay/Ifremer/HO/AP
As each day passes and another theory emerges to explain the disappearance of Air France Flight 447, the urgency increases to find the flight data recorders -- or black boxes -- which hold critical and concrete clues to the mystery.
The Airbus 330-200 left for a routine flight from Rio de Janeiro to Paris last Monday. Four hours later over the Atlantic Ocean it ran into a bank of thunderstorms and then was gone.
First speculation centered on lightning or turbulence as the cause. The latest centers on small speed sensors that may have iced up, causing the plane to register incorrect speeds. French investigators today confirmed that Air France had not replaced those sensors, called pitot tubes, despite a recommendation from the manufacturer.
But Paul-Louis Arslanian, who heads the French investigative agency, cautioned against jumping to conclusions. The A330-200 is designed to fly with multiple component failures, he says. And there were 24 error messages sent automatically from the plane to Air France headquarters in the flight's last few minutes, including references to the aircraft's speed readings and autopilot.
Not enough information
---