How an American couple came to be spies for Cuba
(Read article summary)
Kendall and Gwendolyn Myers were recruited from academia by Fidel Castro's intelligence service - one of the best in the world.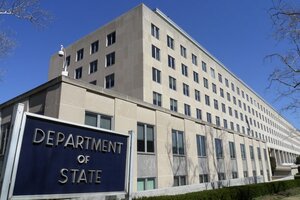 Scott Applewhite/AP/File
A retired State Department official -- aided by a top security clearance, a shortwave radio, and his wife -- passed on secret information to the Cuban Intelligence Service for nearly three decades.
That's the gist of a grand jury indictment unsealed by federal prosecutors on Friday. The State Department is still working on a damage assessment, but federal prosecutor David Kris describes the alleged spy activity as "incredibly serious."
The arrest of Kendall Myers and his wife, Gwendolyn Steingraber Myers, is the latest in a series of high-profile Cuban spying cases. This latest federal indictment, the result of a three-year joint investigation by the FBI and State Department, came just days after Cuba accepted a US offer to renew talks on immigration.
"These talks are part of our effort to forge a new way forward on Cuba, that advances the interests of the United States, the Cuban people and the entire hemisphere," said Secretary of State Hillary Clinton at a press conference in San Salvador on June 1.
Spy case could stymie US-Cuba talks
---