Air France pilots urge change in air-speed sensors
(Read article summary)
Clues to Flight 447's failure may lie in Airbus tail section found Monday. Some airlines are starting to replace the instruments, known as Pitot tubes.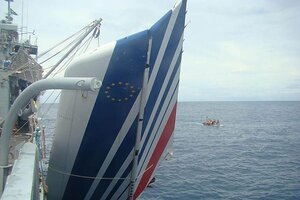 Brazil's Air Force/AP
The men and women who sit in the left seats of Air France's Airbus 330s don't know for certain what happened to flight 447.
But those pilots are certain that the Airbus air-speed indicators – known as Pitot tubes – might be the problem. And they're demanding action.
On Tuesday, the French newspaper Le Monde reported that one of the three unions at Air France urged pilots to refuse to fly unless two of the three Pitot tube sensors on each aircraft are replaced.
Shortly before the Air France flight went down, the aircraft automatically sent 24 error messages to the Air France maintenance headquarters in Roissy, France. One of those early messages was reported to be the loss of the air-speed indicators.
Why is that critical?
If the Pitot tube, the primary instrument for measuring the aircraft's speed, is faulty or giving a false reading because it is clogged by ice, that could result in the aircraft traveling too fast or too slow.
The French media have reported that the government agency investigating the crash has found that Flight 447's pilots may have been getting inconsistent airspeed readings as the plane passed through a thunderstorm.
In a US online aviation forum, one pilot observes:
---