Brazil: Don't blame it on Rio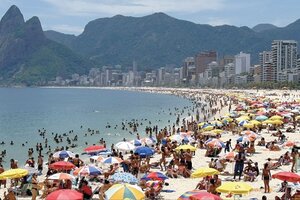 NEWSCOM
• A local, slice-of-life story from a Monitor correspondent.
RIO DE JANEIRO – When is a joke not a joke?
When it's aimed at Brazil.
Brazilians have a well-deserved reputation as easygoing and fun-loving. But not for the first time, locals failed to see the funny side when they were the butt of ironic humor.
The latest villain was Burger King, which launched an ad for cheap meals in Britain with the slogan: "One Way Ticket To Rio Not Necessary."
The allusion was prices that low are akin to daylight robbery. Robbers, of course, must flee. And where else to run to but to Rio de Janeiro – the go-to city for those seeking to avoid justice in their own country?
The most famous case is English train robber Ronnie Biggs, who became a Rio celebrity after fleeing to the city in 1970. Other high-profile fugitives include Mexican singer Gloria Trevi, who hid out for months in Copacabana to evade police charges she corrupted minors, and Jesse James Hollywood, a US killer on the FBI's Top 10 Most Wanted List, who was seized in Rio in 2005.
---