US soccer beats Spain! Now let's relax.
(Read article summary)
Every major US win is hailed as the best ever. But really, it's just part of 59 years of progress.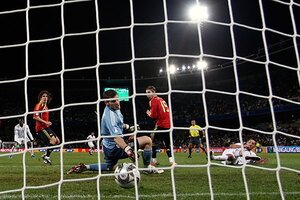 Paul Thomas/AP
Here's an idea. Let's take a deep breath.
In the afterglow of the US' 2-0 Confederations Cup win over Spain, unquestionably the best soccer team in the world, let's refrain from deciding whether the win was No. 25 or 26 on the list of the 236 most galactically mind-boggling things ever to happen in American sports.
For once, let's not trot out the most tiresome question in the history of sports journalism: Does this mean the US has finally arrived as a Legitimate World Soccer Power?
If a big tree (named Spain) falls in a moderately important World Cup warm-up tournament in South Africa, will anyone in America care? Will soccer suddenly become something other than a Saturday afternoon release-valve for the pent-up energy of shin-guarded six year olds?
Probably not.
But on the upward arc of American soccer, it is a fingerpost of progress. That the United States can beat a country that had won 32 of its last 35 matches – and tied the other three, tying a record for the longest international soccer unbeaten streak in the history of the known universe – means something.
In short, it means that on a good day, the US can beat a team that is historically good – one whose style is so lovely to behold that soccer journalists channel their inner Shakespeare simply to chronicle it.
---