Brazil escapes South Africa's 'killer bees'
(Read article summary)
South Africa loses to Brazil in the semi-finals of the Confederations Cup.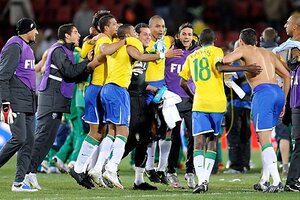 Martin Meissner/AP
Bzzzzzzzzzz. BZZZZZZZZZZZZZZZZ!
What does is feel like to have a swarm of killer bees in your ear?
Annoying? …. Debilitating?
Ask Brazil's soccer team.
The world's most famous soccer nation barely hung on Thursday as they slipped past (1-0) soccer light-weight South Africa amid a constant drone of vuvuzelas in the semi-finals of the Confederations Cup – a quadrennial soccer tournament comprised of the top countries in each continent and the host nation (South Africa).
Vuzu-WHAT?!?
Vuvuzelas. The three-foot-long cheap plastic horns that are played incessantly by hundreds or thousands of fans at each South African game.
To see and hear them in action, click here.
These are basically the same horns that are sold on street corners or most US cities at every Fourth of July or New Year's Eve party.
But in South Africa, they are a staple for soccer fans. And you can count on hearing them again when South Africa hosts next year's World Cup – the world's most popular sporting event.
On Thursday, the buzz (it really does sound like a swarm of bees) was intense.
It was almost too much for Brazil. It took them until the very end to finish off South Africa.
---