The United States and Venezuela begin to make nice
(Read article summary)
An exchange of ambassadors is part of Obama's policy of engagement over confrontation.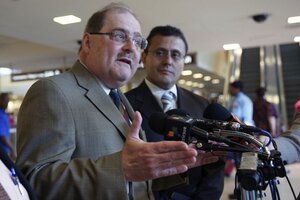 Nestor Ikeda/AP
WASHINGTON -- Quietly, and as President Obama inched away from dialogue with Iran, the United States has reestablished full diplomatic ties with another thorn in Washington's side -- Venezuela.
Fiery Venezuelan President Hugo Chavez's ambassador returned to Washington Friday, while the US ambassador is expected to return to Caracas next week after nearly a year during which the two diplomats were "persona non grata" in their country of assignment.
The mutual return of expelled ambassadors follows a toning down of Mr. Chavez's anti-American rhetoric. Chavez, who once declared from the podium at the United Nations in New York that President Bush was like the "devil" leaving the scent of sulphur in his wake, now jabs Mr. Obama as being "more socialist than I am" over the "nationalization" of General Motors. At the same time, the US administration has taken steps to put meat on the bones of Obama's policy of engagement over confrontation.
---