Argentina: In a 'me.com' world, 'floggers' flourish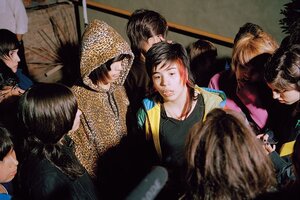 Emiliano Granado
• A local, slice-of-life story from a Monitor correspondent.
BUENOS AIRES – Every day after school, a crowd of teenagers can be found at the Abasto Shopping Center. They don't belong to the usual coterie of unkempt, motley mall rats.
For one, their wardrobe is impeccable. They wear skinny jeans with no belt, the waistline sagging down. Most sport fluorescent T-shirts with drooping V-necks. Buckets of hair product complete the look.
Each carries that ubiquitous teen accessory: a mobile phone with built-in camera. When they're not chatting or checking their hair, they're snapping photos of themselves. The most proficient combine the two activities.
These are the "floggers," photo-bloggers, a phenomenon currently taking Argentine teen culture by storm. Unlike youth movements of the past, floggers don't want to change the world. They don't even get riled up about it. The initiation rules are simple: Digitize your life on camera, upload the results online, and share with your friends.
Flogging is largely a middle- and upper-class phenomenon. Floggers need access to the Internet, preferably broadband. Argentina has one of the highest Internet access rates in South America, but domestic Web access is dominated by well-off families.
Floggers need time on their hands, too. Being a flogger is a time-intensive job, requiring attention to dress and constant online updates. Most are schoolchildren, from as young as 10 to around 18. (It's not "cool" for university students to be floggers.)
---