Charles Taylor at the Hague: Theatrical defense reminiscent of Hussein, Milosevic
(Read article summary)
The former Liberian leader kicked off his defense for alleged war crimes Monday by quoting Shakespeare.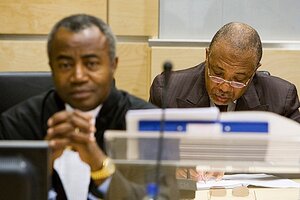 Robin van Lonkhuijsen/AP
We've seen this movie before. You know, the one where the brutal dictator finally gets his day in court only to turn into a drama queen, angrily denouncing the court as a charade one minute, crying about being misunderstood the next. ("They just don't understand me, your honor. I did everything for them." Sniff, sniff ... weep.)
This time it's Liberia's former leader and chief warlord, Charles Taylor. The first African head of state to be charged with war crimes and crimes against humanity "swaggered into the witness stand in the Hague to plead his innocence," reports The Times of London.
The UN-backed Special Court for Sierra Leone indicted Mr. Taylor in June 2003 on 17 counts of war crimes and crimes against humanity over the 1991-2002 war in Sierra Leone but condensed the charges to 11 counts in 2006. The prosecution has closed it case after bringing in a range of witnesses to tell stories of violence, rape, and amputation. Now it's Taylor's turn to tell his side.
Taylor quotes Shakespeare
Ever the showman, Taylor proceeded to portray himself Tuesday as a victim of a mob thirsty for revenge. And what better way to do that then to quote the master of drama in the English language, William Shakespeare?
"Haven't they had their pound of flesh?" he asked, apparently referring to the fact that he's been made to spend time in a heavily-fortified detention center in The Hague while his trial plays out.
---