In Friday sermon, Rafsanjani criticizes Iran's crackdown
(Read article summary)
The influential former president appealed for the rule of law to be respected, an open national dialog, and a release of political prisoners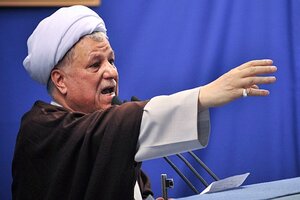 ISNA/Reuters
Tens of thousands of Iranians attended Friday prayers at Tehran University and the audience roared with shouts of "freedom!" as leading cleric Ali Akbar Hashemi Rafsanjani obliquely criticized the government for its crackdown on protesters.
Outside, a small group of pro-democracy protesters were beaten by police and the Basiji militia that have come to act as the primary muscle on Tehran's streets for Supreme Leader Ayatollah Ali Khamenei and his ally, President Mahmoud Ahmadinejad – who many Iranians believe unfairly won last month's presidential election. The Associated Press reported that 15 protesters were arrested.
But the real fireworks were inside the prayer venue, where the Mr. Rafsanjani, an influential former president and major financial supporter of defeated presidential candidate Mir Hossein Mousavi, delivered his first Friday sermon since the election, which was carried live on national radio.
Friday is the holiest day of the week in Islam and Friday sermons often carry important political implications in Iran. Traditionally the domain of conservatives, the sermon was anticipated as the latest face-off in a broader power struggle between the supreme leader and Mr. Ahmadinejad, and rival leaders of the 30-year-old Islamic revolution.
---