For Obama, visit with Iraq's Maliki is an easy part of his job
(Read article summary)
Unlike the battle over health care, the visit offers few potential pitfalls.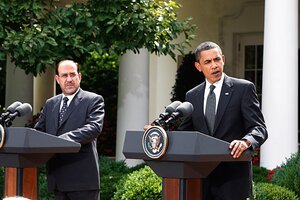 Ron Edmonds/AP Photo
In a week in which President Obama has been castigated by opponents over efforts to reform health care, his visit with Iraqi Prime Minister Nouri al-Maliki Wednesday afternoon probably came as something of a welcome relief – and it's not just because Mr. Maliki was unlikely to accuse the president of being a socialist.
Health care could deliver damaging blows to the president's domestic clout. But Obama is unlikely to catch much political flak if he fails to convince Maliki to abandon the sectarian politics that, even now, divide Iraq. That's a major shift when compared to his predecessor George Bush, who got America into the war and took hit after political hit on the matter.
Six years after the United Status invaded Iraq, Americans appear relatively unfocused on whether the Iraqi government gets itself on track – something that should give Obama breathing room on the issue. A CNN poll at the end of June found that 73 percent of Americans supported the June withdrawal of combat troops from the cities, even though a majority of Americans expected inter-Iraqi violence to spike as a consequence.
---