Aborted rocket test: A chink in Israel's anti-Iran armor?
(Read article summary)
The highly touted Arrow 2 is considered central to Israel's defense against an unconventional attack.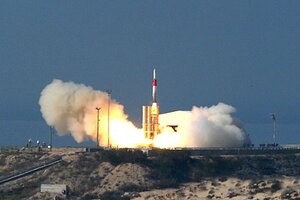 Israel Aircraft Industries/AP/File
TEL AVIV – Israel's defense ministry said that it aborted a Wednesday test of the Arrow 2 rocket, a rare glitch in an ongoing effort to improve a system developed to intercept Iranian ballistic missiles.
The highly touted Arrow 2, which has been operational for about a decade, is considered a central element in Israel's defense against a nonconventional attack. Local defense analysts said the launch failure marked a developmental setback for the system, but added that Israel still has ample deterrence against an attack from Tehran.
"It's a step back for the prestige of the Arrow missile, but Israel's defense posture is still as strong as before,'' said Meir Javedanfar, an Israel-based expert on Iran. "I don't think this is going to encourage Iran to launch a first strike.''
The analyst said that Israel's ability to strike Iran targets with its air force and the quality of its intelligence are more important elements in deterrence.
Defense Ministry spokesman Shlomo Dror confirmed that a "glitch'' occurred during the test launch and Israeli officials decided to abort, but declined to be more specific.
---