Syria: Iraqi artists, now refugees, struggle to pursue art in exile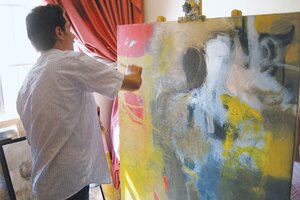 Frederick Deknatel
• A local, slice-of-life story from a Monitor correspondent.
To support his art in Baghdad, Alaa Ismael opened an interior-design office in a commercial area near his house. But after the American invasion, customers dwindled as checkpoints choked the city.
In 2004, his office was burned and robbed by extremists. "They killed everyone, not only artists," he said. "Jihadis would threaten us, calling us 'kafirs' [unbelievers] because of our art, because of the style or subject of our work." While he was never threatened personally, "threats were all around."
So Mr. Ismael left with his wife, sister, and nephews for Syria, where he has been for the past five years. He quickly shakes his head when asked about going back. His oldest daughter was an infant when they left Iraq; his second daughter was born here this year.
They all share the same apartment in a ramshackle hillside neighborhood overlooking Damascus. One of its rooms is his studio, where large finished canvases and rolled-up paintings are stacked, unsold.
Ismael is one of dozens of Iraqi refugee artists here, struggling to paint and sell his work to support himself and his family and maintain a semblance of his former life in Baghdad.
"Before the war, Baghdad was the cultural and artistic center," Ismael said. "There were galleries, art schools, universities. There was movement."
---