Israel loosens Gaza blockade to allow rebuilding
(Read article summary)
Construction materials had been banned out of fear that Hamas would use them to make missiles or reinforce tunnels used for smuggling weapons.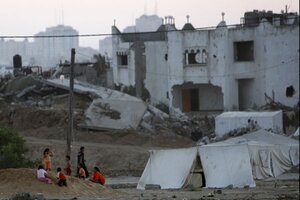 Adel Hana/AP
Israel has agreed to allow a limited amount of cement and other construction materials into the Gaza Strip, some six months after the end of a devastating war between Hamas and the Israeli army. An economic blockade imposed by Israel has been increasingly tightened since the militant Hamas group took control of the territory in 2007.
For months, the United Nations and various aid agencies have been asking for cement and other materials to be let into Gaza so that reconstruction projects can commence. But Israel said such heavy materials were banned out of fear that they would fall into the hands of Hamas, and would then be used for making missiles or reconstructing tunnels which are used to smuggle goods and weapons into Gaza.
That policy had paralyzed people like Maamon Khozendar, one of Gaza's most successful industrialists, who wanted to help Gazans rebuild their lives after a war that destroyed 2,800 homes and left tens of thousands without homes.
Fruit of visits with Obama's team?
The announcement that Israel would allow the cement to be admitted to Gaza coincided with the visits to Israel by US National Security Adviser James Jones, US Defense Secretary Robert Gates, and US Mideast envoy George Mitchell.
---