Young Moldovan voters get the last tweet
(Read article summary)
Youth-driven effort to unseat Moldova's Communist Party succeeds in its second attempt.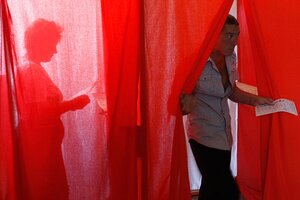 Gleb Garanich/Reuters
MOSCOW – Remember Moldova's "Twitter Revolution," when thousands of tech-savvy young people took to the streets of the capital Chisinau in April to protest an allegedly rigged parliamentary election?
The last time we checked in, it appeared that the uprising had failed – quashed by a harsh police crackdown and the insistence of foreign election monitors that the Communist Party's slender victory was legitimate.
But the ground appears to have shifted again this week with the victory of four anti-Communist parties in snap elections. They won enough seats to form a new government and some analysts are saying that means the power of the tweet prevailed after all.
"I think it worked, because those [revolutionary] events in April heavily influenced the way people voted on July 29," says Arkady Babaroshiye, executive director of the independent Institute for Public Policy in Chisinau.
"Moldova's political preferences have changed, and people are tired after eight years of Communist rule," he adds. "The youth were very active in the [Twitter Revolution], and we see that the liberal and democratic parties have now won thanks largely to the support of young people."
---