Corazon Aquino leaves Philippines legacy of democracy
(Read article summary)
After her husband's murder catapulted her into a national leadership role, Cory Aquino helped bring down the Marcos dictatorship.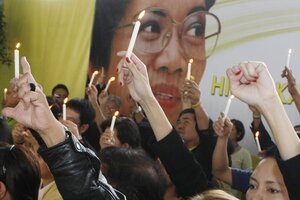 Joseph Agcaoili/AP
Corazon "Cory" Aquino (here she is on Time Magazine's 1987 "Woman of the Year" cover ), who passed away Saturday, was a singleminded and somewhat dowdy widow who rallied the "People Power" revolution that brought democracy to the Philippines.
Mrs. Aquino not only swept away the dictatorship of Ferdinand Marcos in 1986 but faced down seven coups attempts as the nation's military resisted civilian political control. She also leaves behind a nation that has been more or less democratic ever since. The AP reports that the government declared 10 days of national mourning; ordinary Filipinos tied yellow ribbons – the color of her revolution – to trees and lampposts.
The daughter of an extremely wealthy family on the country's main island of Luzon, she was a thoroughly accidental politician, owing that largely to her marriage to Benigno "Ninoy" Aquino, a charismatic opponent of Mr. Marcos.
---