Rape in Congo: What got me was the laughter
(Read article summary)
One man told me that we had to talk in hushed tones because other men would mock him if they found out that his wife and daughter had been raped.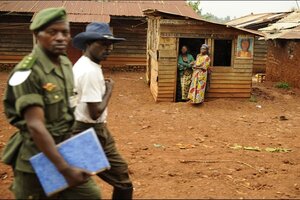 Mary Knox Merrill/Staff/FILE
As Secretary of State Hillary Clinton speaks to victims of rape in Congo's war-ravaged east today, I can't help but remember my recent discussion with a Congolese Army colonel who raped women before his militia was folded into Congo's military a few years ago.
After pulling his hat over his face while the video camera was rolling, he spoke in a deadpan, matter-of-fact way about how he used to rape. Now, he uses his position of influence to speak out against rape as part of program run in Congo by the Washington-based group Women for Women International. (Read the story from when I was in Congo and see the video here.)
It was tough hearing him recount how militiamen – and government soldiers – routinely rape women as a way to demoralize or dominate civilian populations in Congo's ever-shifting ethnic battles for control of the country's mineral wealth.
But I was prepared for the grisly details. What mattered, as always, was being impartial, listening, asking good questions, and taking notes to give readers a glimpse of how "one of mankind's greatest atrocities" – as Mrs. Clinton characterized it on Monday – is playing out in the remote fields of Congo.
The images, his nonchalance … none of that shocked me.
---