Typhoons' destructive wake tests Taiwan, China, Japan
(Read article summary)
Two earthquakes – in Japan and the Indian Ocean – added to the punishing weather striking East Asia.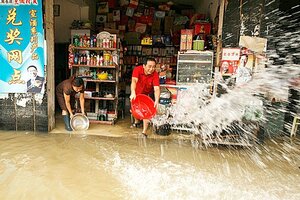 Li Xiaohong/Xinhua/AP
Nature continued to pummel East Asia Tuesday as two large earthquakes struck in the wake of Typhoons Morakot and Etau, which left a trail of devastation across Taiwan, China, and Japan over the weekend. At least 70 people are now confirmed dead from the storms and as many as 500 more are feared dead after a mudslide destroyed an isolated village in southern Taiwan.
One person was killed by a 6.5-magnitude earthquake in Japan, and authorities have warned that more landslides are possible in the quake-hit areas. None were reported injured in a larger quake that struck in the Indian Ocean.
Typhoon Morakot, nearly 1,000 miles wide, unleashed the worst flooding in Taiwan in 50 years over the weekend, destroying thousands of homes and spurring landslides across East Asia. Taiwan's National Fire Agency said Tuesday that as many as 500 people may have been killed in Shao Lin when a mudslide buried the village. Taiwan News reports that Shao Lin had 1,300 inhabitants, but it was unclear how many were in the village when the landslide hit.
---